Elmotoo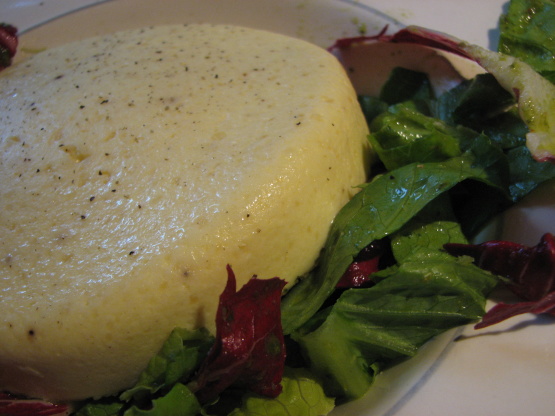 From BBC Food's 'Rachel's Favourite Foods'. They looked so simple, few ingredients, yet tasty and elegant. Can't wait to try!

OH MY. This is spectacular!!! I am going to invest in smaller ramekins so 1. each batch will serve more people because this is worthy of special occasions. and 2. for smaller portions because it is very rich & the kids couldn't finish theirs which disturbed me because it was sooooo good. A HUGE thumbs up on this one. And it is NOT difficult, so nobody be afeard of the word 'flan,' lol. Oh, I sprayed the ramekins with oil. They slipped right out. I couldn't get decent arugula, so you see romaine & radicchio in the photo. Made for Photoless Chefs 6/08.
Bring the milk and cream to a bubble (do not boil).
Add bay leaves and garlic, turn off heat, place lid on saucepan, and leave to infuse (for approximately 1/2 hour or longer).
Whisk together the eggs and egg yolks.
Pour milk mixture over eggs very slowly while whisking.
Strain through a sieve (this removes any left over unconstituted egg "bits" and makes for a smoother, glossier end-product).
Add grated parmesan and salt and pepper.
Pour into 4 individual ramekin dishes and place in a bain-marie (see note below).
Bake at 375°F for 30-40 minutes until set at the edges but still slightly "jiggly" at the centres.
Upend onto serving plates and serve with a side garnish of olive oil-dressed rocket leaves.
Note: For our beginner cooks, place the ramekins in another container into which you can pour hot water such that the water comes up to about halfway up the ramekin dishes.