msmia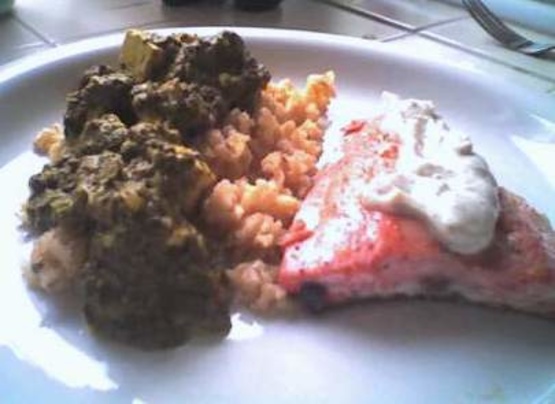 This is a popular main dish that can be served with any bread or rice. Everybody loves it.

Although your spinach recipes vary from 'nice' to 'spectacular', I am a purist where spinach is concerned. Give it to me straight out of the good earth cooked in only the water clinging to the leaves. MAYBE with a dot of butter and/or salt. Maybe! Your site is most enjoyable and my family has had the good fortune to benefit from the many meals based on your recipes.As my kids say: "You Rule!"
Cook the first 7 ingredients in one cup water for about 10 minutes.
When little cold, puree in a blender, adding more water as needed.
Heat the oil in a pan on medium heat.
Saute the garlic and the spices.
Add cream cheese and spinach.
Cook for 10-15 mins.
to desired consistency.
Note: Add firm tofu pieces if desired.