Creamy Oven BBQ'ed Potato Casserole
Debber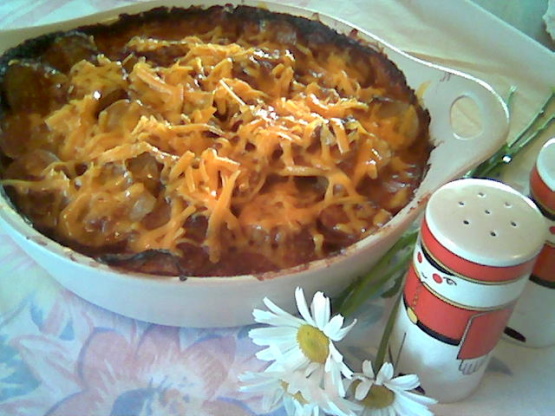 Something different from the same-old same-old. Hope you try them! They're really good!

I prepared this exactly as written but I'm afraid that four out of four adults at my house did not really care for this at all. I was really hoping everyone would, especially since Sweet Baby Ray's is my favorite bbq sauce.
In large bowl combine 1-1/2 cups of the cheese and rest of the ingredients except potatoes.
Fold in potatoes well.
Spoon into a greased 9" square pan, making sure potatoes are laying nicely, cover and bake at 350º for 45 minutes.
Uncover and bake about 30 minutes longer or until potatoes are tender.
Remove from oven, sprinkle top with rest of cheese and paprika, and let stand 5-10 minutes before serving. 4-6 servings.