diner524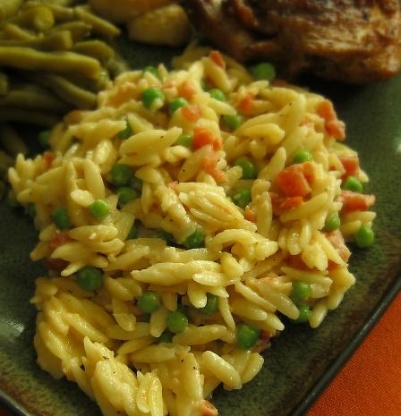 We watched Giada DeLaurentis prepare this dish and whole family agreed - this is a must fix. Creamy, wonderful blend of flavors.

I just tried this and my family loved it!! Goes well with Rosemary chicken! This will be a favorite at my house. Thanks for sharing!
Bring a heavy large saucepan of salted water to boil over high heat. Add the orzo and cook until tender but still firm to the bite, stirring often, about 8 minutes.
Drain - reserving 1 cup of the cooking liquid.
Meanwhile, heat oil in heavy large pan frying pan over medium heat. Add the shallot and garlic, saute until until tender (about 2 minutes).
Add the tomatoes and cook until tender (5-8 minutes).
Stir in cream and peas.
Add orzo and toss to coat.
Remove from heat; add the Parmesan to the pasta mixture and toss to coat.
Stir the pasta mixture until the sauce coats the pasta thickly, adding enough reserved pasta water to maintain a creamy consistency.
Season with salt & pepper.