Creamy Orange Sauced Fruit Salad
twissis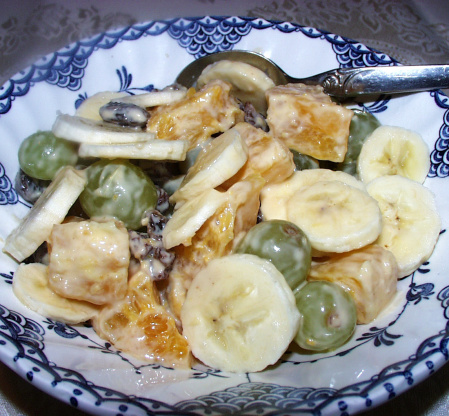 A French fruit salad (a variety of whatever is in season) I like to add pears when my pear tree is loaded with fruit.

DH & I often eat fruit salad combined w/yoghurt as a light dessert. I tagged this recipe, went to my kitchen & made a 1/2 recipe easily in a few min using raisins plumped in the sauce while I prepared grapes, orange segments & banana. Juice conc are not available here, so I used fresh orange juice & granulated lemon peel + a bit of cinnamon in the sauce. It was yummy & I know DH will agree when I add fresh banana to the mix for him tonite. Thx for posting this recipe for us.
2

cups sour cream, thick, regular, low fat, no fat

2

tablespoons honey

1

tablespoon orange juice concentrate

1

teaspoon lemon zest (or 1/2 tsp granulated lemon peel)

6

cups fresh fruit, chopped (combination of your choice)
Mix your choice of sour cream no fat, low fat of regular with next 3 ingredients to make sauce.
Cover and refrigerate for at least one hour; can be made early in the day and combined with fruit before serving.
Combine orange sauce and fruit in a serving bowl.
Serve.