Parsley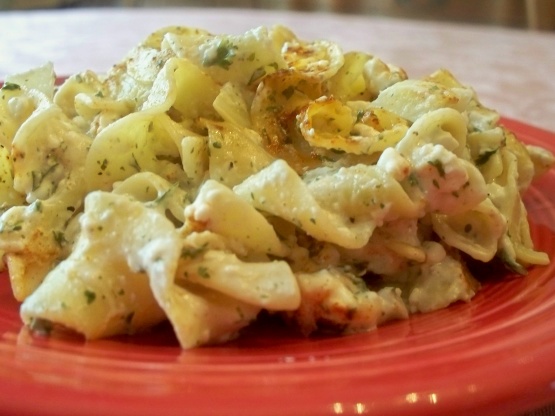 This is an easy and delicious casserole that can be served with just about anything. It's great for potlucks. I sometimes throw in a 4 oz can or diced green chilies or add 1/2 cup of pepper jack cheese for a little zip. Or you can add one-half of a 10 oz pkg of frozen chopped spinach, very well drained. If you use spinach, add 1/4 tsp nutmeg to cheese mixture. Added later: I tried Linda's suggestion and put the cottage cheese, sour cream, onion and garlic through the food processor first and I think it is a definite improvement on my recipe. I used tri-colored farfalle (bow ties) and added 1 c sauteed mushrooms. Best yet!

excellent. i didnt have any parsley so i used a bit of dried thyme. i also omitted the tobasco sauce. I added sauteed mushrooms and about 1/4 cup soft cream cheese i also blended the cottage cheese so it would be smooth (as someone else had mentioned on here)<br/>made a 13 x 9" dish worth.very yummy indeed
Cook noodles al dente. Do no overcook!
Mix all other ingredients, except paprika, in a large bowl.
Add cooked and drained noodles to bowl.
Spray a 2 qt casserole with nonstick spray.
Pour noodle mixture into casserole dish and garnish with paprika.
Bake at 350 degrees for 45 minutes.