Creamy Nonalcoholic Margaritas
Prep 1 hr 5 mins
Cook 0 mins

Kids get a kick out of these. Pour into maragarita glasses w/ sugar or salt around the rim. It's not necessary to partially freeze the yogurt, but it does make it more cool and "slushy." Prep time includes the partial freezing.
3 cups custard style lemon yogurt, partially frozen in the freezer for about 1 hour
2 cups carbonated lemon-lime beverage, cold (such as Sprite or 7-up)
1 teaspoon lime juice
lime slice, for garnish
kosher salt (optional) or sugar, to rim the glasses (optional)
Directions
Place the partially frozen yogurt, soda and lime juice into a blender and process until smooth.
If desired, wet the rims of your margarita glasses and dip into either kosher salt or sugar.
Pour drink into the glasses.
Garnish w/ lime slices, if desired.
Reviews
Most Helpful
Mmm, creamy, tangy, and delicious! Tastes very much like the real thing too! ;) I added a tablespoon of frozen limeade concentrate for a boost of flavor. We served these with Crock Pot Chicken Fajitas and they hit the spot! Thanks for sharing!

This was a surprisingly wonderful drink. We made this as part of a Cinco De Mayo celebration a few years ago. My oldest son has asked for it every year since.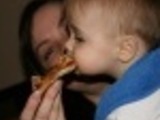 This is great! We love margaritas and this nonalcoholic version is wonderful. I used Sierra Mist. It was nice to be able to serve this drink to my sons. They enjoyed it. I will make this again. Thanks for sharing. Made for Kid-Friendly Tag.