3 Reviews
This dressing is wonderful. It is very hard to believe that it only has 2 tablespoons of oil. It is very garlicky and creamy. I did not have the dandelion greens as suggested. I used a combination of red leaf lettuce and romaine.
Wow! This salad is all about the dressing, and it is a good one. I did not use the dandelion greens, I used a pre-packaged bag of spring mix that can be located in any grocery store. I highly recommend this salad.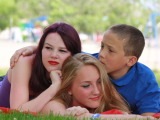 Leslie this salad is so good! I used spinach instead of the dandelion greens and a bit more dijon mustard. Put the sunflower kernels in the food processor and gave them a few good pulses, than added the tofu and another few pulses. The dressing was very good, DH and DD did not know tofu was in the dressing mix. Wonderful salad!

Creamy Non Dairy Romaine Salad