Creamy Non Dairy Romaine Salad
This is a delicious, garlicky creamy dressing that has no dairy. The silken tofu makes it creamy without dairy giving your salad a rich taste without a lot of fat. From The World's Healthiest Foods Website. Hope you enjoy!
Directions
Blend all dressing ingredients in blender adding oil a little at a time at the end.
Make sure you blend this dressing well so the sunflower seeds are ground.
Stop your blender and test for smoothness. When the seeds are ground well they will make your dressing nice and creamy.
Chop, rinse, and dry romaine and dandelion greens.
If you have a salad spinner it is best.
If not, pat rinsed greens with paper towels so dressing doesn't get diluted.
Toss greens with tomato and desired amount of dressing.
Reviews
Most Helpful
This dressing is wonderful. It is very hard to believe that it only has 2 tablespoons of oil. It is very garlicky and creamy. I did not have the dandelion greens as suggested. I used a combination of red leaf lettuce and romaine.
Wow! This salad is all about the dressing, and it is a good one. I did not use the dandelion greens, I used a pre-packaged bag of spring mix that can be located in any grocery store. I highly recommend this salad.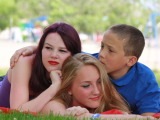 Leslie this salad is so good! I used spinach instead of the dandelion greens and a bit more dijon mustard. Put the sunflower kernels in the food processor and gave them a few good pulses, than added the tofu and another few pulses. The dressing was very good, DH and DD did not know tofu was in the dressing mix. Wonderful salad!