Creamy No-Egg Potato Salad
SaraFish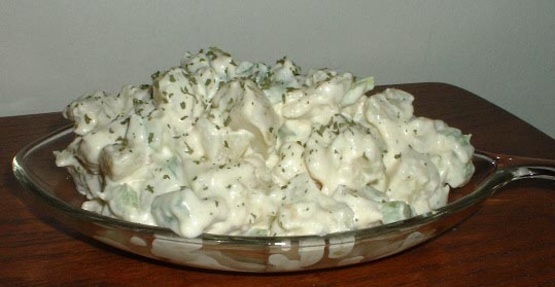 I don't like chopped boiled eggs in potato salad so I developed this recipe using pickles and pickle juice for tang! The fresh veggies are crunchy and delicious. Yes, there are still eggs in the mayo-based dressing but you can sub an egg-free mayo. Try it - it's yummy!

I love this recipe so much! It's simple, but it's classic taste WITHOUT eggs is a winner!
Boil potatoes in water for 25 minutes, drain and set aside to cool.
Combine remaining ingredients in large covered container and place in refrigerator while potatoes are cooling.
When potatoes are cool enough to handle, peel and cube them.
Add to vegetable mayonnaise mixture and toss.
Cover and chill at least 6 hours or overnight.
Delicious!