Creamy New York Strip Stew
teresas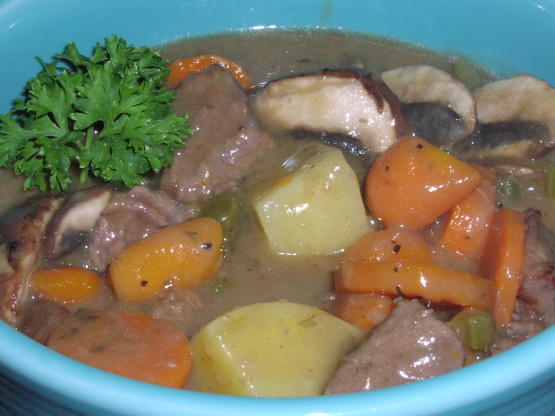 Nice, creamy, and tender stew that is extremely filling and comforting.
This stew is just delicious. Very hearty and creamy, and full of flavor. I mixed in some frozen peas at the end instead of corn, and instead of salt I seasoned it with Maggi seasoning, which gave it a nice umami flavor. The meat came out super-tender as well, so this recipe is a real keeper.
Put flour, salt, and pepper in large ziploc bag.
Heat oil over medium heat in a deep skillet.
Place meat in bag with flour and toss until coated.
Shake off pieces and add to skillet and cook until browned.
Add remaining flour and onions and stir until browned.
Add carrots, celery, parsley, and broth.
Cover and cook over low_medium heat for 1 hour stirring every 5-10 minutes.
Add potatoes and additional carrots and cook for another 30-45 minutes until potatoes are fork tender.
OPTIONAL- during the last 5 minutes add a drained can of corn.