Peter J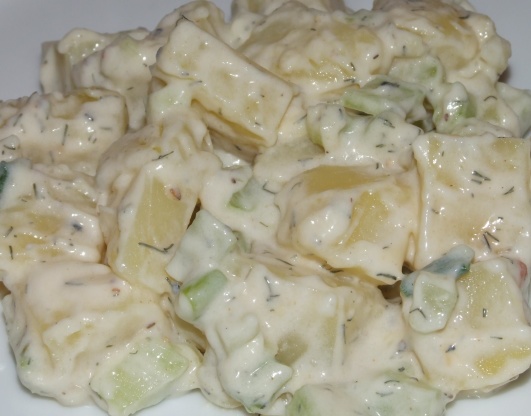 My family is not fond of traditional potato salad, or what they call "yellow potato salad", so I concocted this out of several different recipes. It is now requested at every gathering and I always have an empty bowl! Its really good with barbecue too.

Cut potatoes into 1/2 (leaving skins on) and place in a medium saucepan.
Add water to cover.
Bring to a boil; cover, reduce heat, and simmer 15 to 20 minutes or until tender.
Drain and cool completely.
Cut potatoes crosswise into quarters.
Combine potato, chopped green onions, and celery in a large bowl; toss gently.
Combine mayonnaise and next 9 ingredients; stir well.
Add to potato mixture, tossing gently to coat.
Cover and chill several hours. *Salad is best chilled for several hours so flavors can meld.