Creamy Mustard Vinaigrette

Lemon juice may be used instead of vinegar.
Directions
Whisk shallots, mustard, and vinegar together and season with salt and pepper.
Mix well and slowly incorporate sour cream. Whisking constantly. Add paprika, mix and correct seasonings if desired. Thin with vinegar if desired.
Serve over salad.
Most Helpful
Although I'm not bit on creamy salad dressings, I made this primarily for my other half, & believe me it was well received there! I also tried a bit of it on some steamed asparagus, & DID like that very much! What can I say ~ A great dressing, however it's used! [Tagged & made in Please Review My Recipe]
This was a tangy, tasty dressing that worked well on some fresh summer lettuce. It's very easy to put together and was enjoyed by all!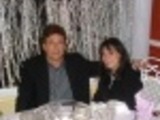 This was a great easy vinaigrette! Used lemon instead of vinegar and lots of pepper!! Added a bit more Dijon mustard! Thanks nyteglori!! Made for Tag. :)