Creamy Mussel Soup with Fiery Rouille
Peter J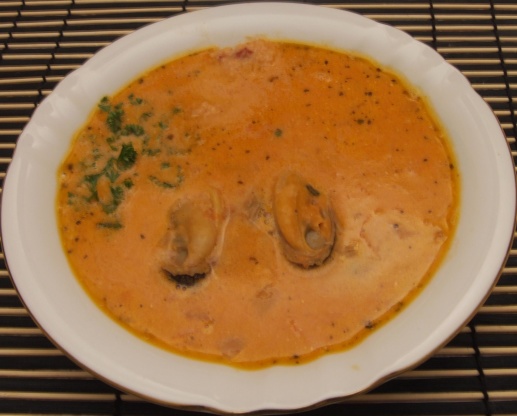 This is a lovely Soup for a Winter Dinner Party!or any type of Gathering of friends and family.

This was simply superb and one of the nicest warming soups I've had in a long while. I used very hot Asian long chilis in the rouille but the other nice thing about the recipe is seperating the chili from the soup, so everyone can use as much or little of the rouille as they like. I used frozen New Zealand mussel meat so didn't have the shells for presentation, but it sure would look even better with a few half-shells around the serving bowl. All the flavours blended together so well and are perfectly balanced.
-------------MUSSELSOUP-------------------.
Sauté the onions in the butter/oil mixture.
Add the garlic, herbs, saffron and flour and stir-fry for 2 minutes.
Add the stock and fresh tomatoes.
Reduce the heat and simmer for 20 minutes.
Add the tomato pesto, sugar and mussels and simmer a further 5 minutes.
Add the cream and adjust the seasoning.
If the soup tastes weak allow to reduce by cooking without a lid for a while.
Sprinkle with chopped fresh parsley and serve with a spoonful of rouille and a crusty garlic loaf.
---------ROUILLE-----------.
Mix all ingredients together thoroughly and serve with seafood soups and stews.