Creamy Mushroom Chicken and Pasta
CarrolJ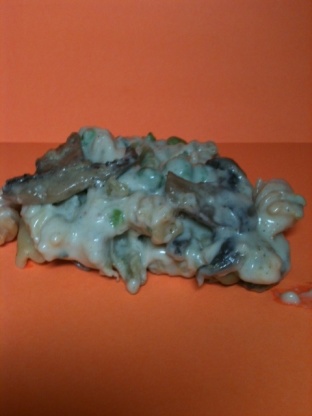 I got this from the better homes and garden website.It seems like a good way to use up a rottiserie chicken so I am going to try it at some point so am stashing the recipe here!
I wasn't fond of this but my DH liked it. I made a 1/2 recipe and had to add extra cream because it was not creamy enough. At first it almost seemed that the cream never was going to thicken, but eventually the cheese helped solve this. I thought it was a bit bland even though I added a lot of salt and pepper. Made for PAC Fall 2012.
Cook pasta according to package directions.
Meanwhile, in a large nonstick skillet, melt butter with oil over medium-high heat.
Add mushrooms, reduce heat to medium and sauté until softened and just starting to brown, 8 to 10 minutes.
Add cream and simmer over high heat until reduced slightly, about 1 minute.
Stir in chicken, peas and cheese.
Remove from heat; salt and pepper to taste.
Toss with pasta and 2 tablespoons parsley.
Transfer to a large serving bowl and sprinkle with remaining 2 tablespoons parsley.
Serve with additional cheese on the side.