Creamy Mushroom Beef Soup
Annacia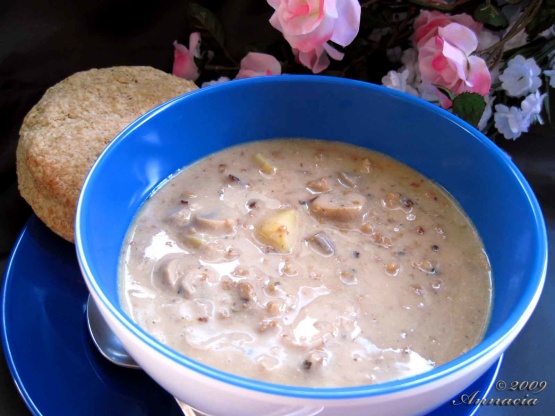 Here is another soup to enjoy on those long cold winter nights.

This is a great tasting quick fix soup that is hearty enough to take on the chill of Fall and Winter. I used fresh Yukon Golds and skipped the cheeses. The soup and a big whole wheat biscuit made a very filling dinner that even DH liked. Be sure to keep an eye on the pot because it will scorch if you don't. I caught it just in time twice. Made for Photo Tag.
Brown the beef in a large pot until no longer pink. Drain any excess grease.
Mix the rest of the ingredients in with the beef. Cook over medium heat for 20 minutes, stirring occasionally.
Note: If using instant rice you made need to put in an additional cup of water.