Creamy Mostaccioli With Bacon and Mushrooms
Marlitt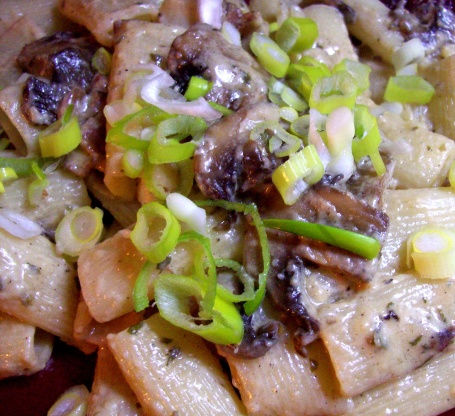 I got this recipe from my mother-in-law. It is a rich and delicious pasta dish.

This was good and easy to make. I followed the recipe as written except I used hormel bacon pieces. I also didn't add parsley and green onions as we don't like them. I also used fresh mushrooms as hubby prefers them if I have them. We used it as a side dish. It was something different.
In medium skillet, cook bacon until crisp; remove from fat and set aside.
Add mushrooms to bacon fat. Cook until golden; drain; set aside.
Prepare mostaccioli according to package directions; drain.
In same saucepan, combine half-and-half, butter, parsley flakes, salt, garlic and hot pepper sauce.
Heat just until butter melts, stirring frequently.
Combine bacon, mushrooms, hot mostaccioli, half-and-half mixture and Parmesan cheese; toss to coat.
Place on warm serving platter; garnish with green onions.
Serve immediately; refrigerate leftovers.