DuChick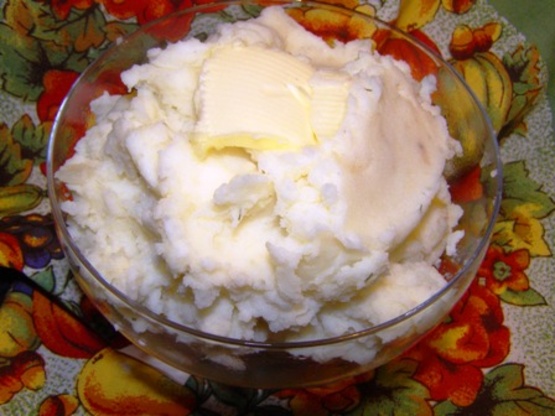 What a lovely combination of flavors! I was a bit concerned about the dill, so only added a dash which was perfect. If you don't love garlic like I do, you might want to cut that back to 1 or 2 cloves. Each bite provided a rich, creamy texture that was much more enjoyable than the regular ol' way I've always made mashed taters. MERP'd for My 3 Chefs.
Cut potatoes into about 2 inch cubes and cover them with water. Put lid on pot and boil until you can cut them easily with a fork, usually about 30 minutes from the time you start cooking.
Drain potatoes.
Place butter in a large mixing bowl.
Add garlic, potatoes, dill, salt & pepper.
Blend until potatoes are slightly chunky and butter is melted.
Add fat free sour cream and skim milk.
Blend on high until mixture is smooth.
Serves 5, but usually with leftovers.