Creamy Mango Lime Smoothie

With the yogurt this is a delicious and refreshing summer drink. Choose lime flavored yogurt or other tropical-flavored yogurts are also tasty! It also makes an excellent summer cocktail without the yogurt and with the addition of rum. Serve in margarita glasses for a festive touch.
Directions
Place the yogurt, mangoes, lime juice, confectioners' sugar, and ice cubes in a blender. Blend until slushy.
Most Helpful
This was great! Modified by using a cup of lime yogurt, few slices magno, teaspoon of fresh lime, teaspoon of sugar (may not use it all next time) and few cubes of ice. Placed in single smoothie maker for 1 person. It was fabulous and healthy! Will try using pineapple-coconut flavored yogurt tomorrow. A quick treat that is tasty and beautiful.
Fabulous! I had to use frozen mango chunks, but they worked out fine; therefore, I didn't bother adding ice. Instead of confectioners' sugar, I used agave nectar, which added just the right amount of sweetness. I was happy to find a key lime-flavored Greek yogurt, which also was perfect. The combination of the mango and lime was bright and tart, and is a great way to wake up your day! Thanks for sharing.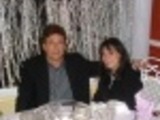 I love mango, and when paired with the lime juice and yogurt it made a sweet -- yet tart -- smoothie. I used frozen mango chunks, let them thaw at room temperature for 30 minutes, and then made the recipe as written. What a great recipe for a delicious and nice & thick smoothie. YUM!