Creamy Macaroni Casserole
lazyme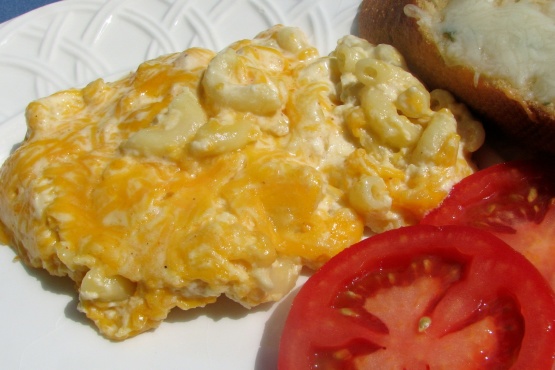 I have even added cooked ground beef and cooked cubed ham to this. Prep time does not include boiling the macaroni.

Made this today for an early Thanksgiving meal for my son. Decided that I would double everything to feed our crowd, but there was no way all that liquid was going to set in the time stated. Boy was I wrong...it set up beautiful with no additional cooking time needed. The only thing I changed was using 1/2 and 1/2 + milk for the full amount of liquid, no whipping cream. Everyone loved it! Thanks Kit for another keeper!
Set oven to 350 degrees F.
Butter a 13 x 9" baking dish.
Cook the macaroni in a large saucepan of boiling salted water until tender-firm (don't overcook) drain pasta.
Transfer to a large bowl; add in 5 ounces of cubed cheese; mix until the cheese is melted and well blended.
In another bowl combine the flour, salt, mustard, black pepper, cayenne and nutmeg until well blended; gradually whisk in the half and half, whipping cream and sour cream, then whisk in the eggs and Worcestershire sauce.
Pour over the macaroni; stir to blend.
Transfer to prepared baking pan then spread evenly.
Sprinkle with the grated cheese.
Bake the macaroni until just set around edges but sauce is still liquid in the center (about 25 minutes, do not over bake).
Remove from oven let stand for 10 minutes to thicken slightly (sauce will be creamy but will thicken up).