Creamy Low-Fat Potato Soup
Parsley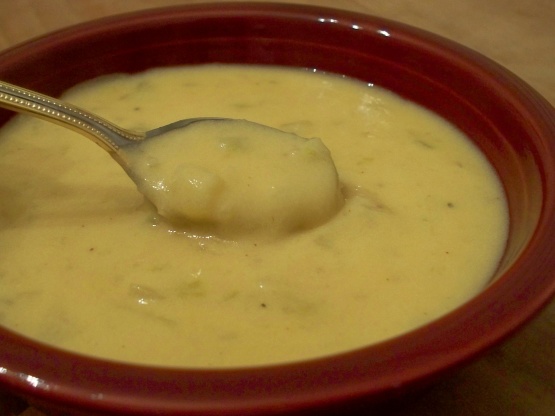 I have two potatoes listed you may add in more if desired, also you may omit the cayenne pepper.

Hubby really enjoyed this. I used about 2 cups of potatoes (1 large potato), 1/8 tsp garlic powder, 1 tsp bouillon powder (trying to lower sodium content) & left out the celery. It only took 10 min of simmering time to get the taters tender. When I added the cornstarch mix (used fat free half & half), the soup thickened up QUICK! So I added the rest of the liquid. I used about 1/4 cup less half & half than called for by accident, but it worked fine! We actually didn't stir in the cheese; offered it as an optional topping--but hubby used some croutons instead. Thanks so much for sharing--it was rich, creamy & a great recipe.
In a saucepan combine the cubed potatoes with onion, celery, cayenne, garlic powder and bouillon powder and chicken broth (start with 2 teaspoon bouillon powder) bring to a simmer over medium heat.
Reduce heat cover and simmer for about 20 minutes or until veggies are tender (at this point you may add in more bouillon powder if desired).
In a small bowl whisk together 1/4 cup evaporated milk with 3 tablespoons cornstarch until smooth; stir into the simmering broth mixing constantly.
Add in the remaining evaporated milk; bring back to a boil, reduce heat to low and simmer for about 3-5 minutes or until bubbly and thickened.
Remove from heat season with black pepper and salt if desired, then stir in the shredded cheese.
Delicious!