Creamy Lovage and Mustard Salad Dressing
COOKGIRl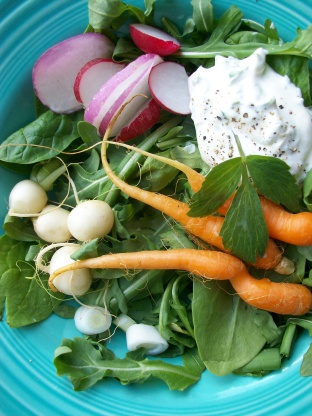 I grow this wonderful old fashioned herb in my herb garden, it's one of my favourites - I love it's warm celery-lemon flavour. Lovage was used extensively during the Middle ages - right up to Victorian times - then it somehow fell out of fashion, which is such a shame as it is such a versatile and interesting herb. This is a wonderful creamy salad dressing, which perks up any mundane leaves - I like to serve it with Mache or Lamb's Lettuce and Tomatoes for a simple and yet elegant starter. It also works well with cooked spring vegetables such as peas, baby carrots, new potatoes and young broad beans.

Fresh lovage from the garden and it doesn't get better than this. I served the dressing over a salad consisting of: baby arugula, baby spinach, baby turnips, baby carrots and green onions-all from the farmers' market. The lovage from our herb garden. Thank you for posting lovage recipes. It is greatly appreciated. PS I replaced part of the yogurt with sour cream only because I have some to use up very soon. Reviewed for Veg Tag 2010.
Whisk all the ingredients together until well blended and slightly thickened.
Check seasoning and adjust to taste.
Serve with mixed salad leaves and tomatoes.
Also excellent if used with lightly cooked and cooled spring vegetable salads such as peas, baby carrots, new potatoes and young broad beans.
Store any unused dressing in a bottle or jar in the fridge for up to 2 days.