Creamy Liver and Mushroom Gravy
Boomette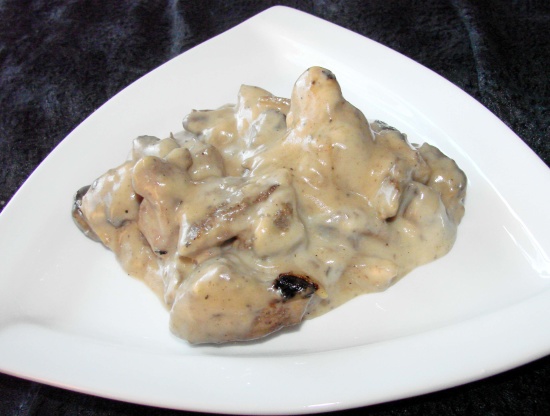 I love liver and stroganoff. This a recipe I made up to take advantage of that. I use an all-purpose Gluten-free flour mix but it would work fine with any all-purpose flour if you are not on a Gluten free diet.

Kids loved it. They thought we were having steak.
Rinse liver thoroughly and pat dry. Pour 1 cup of the milk over the liver in a shallow container and refrigerate for 1-2hrs. This will remove any bitter flavor from the liver.
Drain the milk off the liver and discard the milk.
Cut the liver into 1 inch cubes.
Saute liver over medium heat in a large non-stick skillet until the outsides and lightly browned and they are just barely pink inside. Do not overcook. Remove liver from pan and set aside.
Add the onions and mushrooms to the skillet and cook until onions are translucent and beginning to brown and the mushrooms are cooked through. Remove and set aside with the liver.
Melt butter. Add the flour and stir to form a roux. Cook 1-2 minutes. Add broth and milk slowly. Cook over medium-high heat until sauce begins to thicken.
Add cheese one small handful at a time stirring constantly and making sure the first handful has completely melted before adding another,.
Return the liver, mushrooms, and onions to pans and heat through.
Salt and pepper to taste.