Creamy Lime Sherbet (Or Orange if You Prefer!)
Bev I Am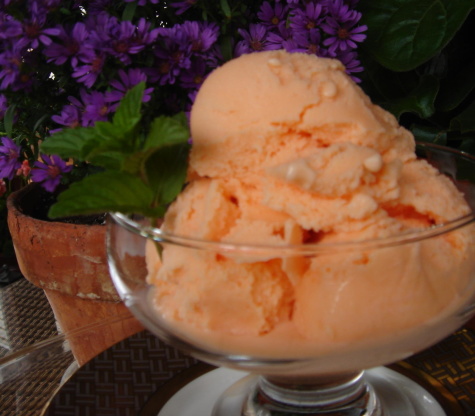 This sherbet is so easy to make and is always a hit. I got the recipe out of Taste of Home. I always take this recipe when going to an ice cream party. It give everyone a choice that they weren't expecting. The cook time is actually freezer time and will vary according to the type freezer you use. See Bev's review to get the instructions on using orange juice and orange jello for orange sherbet!

This is sooooo much better than buying it in the store! I can't believe how easy this is to make! I used 2% milk in this recipe and I am sure it didn't change the consistancy or creaminess one bit. I can't wait to try this lime sherbet with my recipe for Orange Sherbert Refresher (Alcoholic) Recipe #132593 using this lime sherbet in place of the orange! Do I hear my name being called? Thanks so much for this sensational treat, JellyQueen!! — May 19, 2006 ~ I needed up add a little update to my review : ) I have now made this recipe using 12 oz of orange juice concentrate and orange jello replacing the lime. I also added a just a touch of red and yellow food coloring to give it a little more color. This makes the most sensational orange sherbet you ever tasted! Honestly, I don't think I will ever purchase sherbet again ~ Sensational!! Again, I thank you, JQ!!
In a large bowl, dissolve gelatin in water.
Add sugar, limeade and salt; mix until sugar is dissolved.
Add remaining ingredients; blend well.
Freeze in an ice cream freezer according to manufacturer's directions.