Creamy Lime Pie (Rick Bayless)
WiGal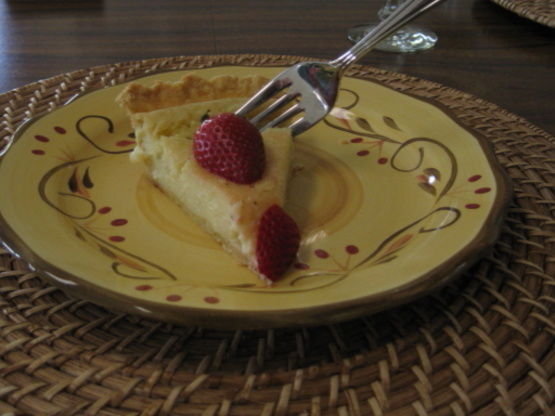 Or Pay de Lim'on comes from Rick Bayless's Mexican Kitchen. Delicious and not too sweet. I use My Favorite Pie Crust and sealed it with beaten egg yolk right after it comes out of my oven. The timing here does not include the time needed to make and bake the single crust before putting this filling into nor does it include making the creme fraiche or crema mexicana. I used Crema Mexicana. Notice how this pie is baked and not stirred in sauce pan on top of the stove. The original recipe said 4 1/2 teaspoons of lime zest, we thought that was not enough so upped it to 5 teaspoons of lime zest. Am unsure if that is the right amount? It also has orange liqueur in it making it muy bueno! Rick Bayless also suggests serving it with Crimson Prickly Pear Sauce which RZ does not recognize as an ingredient or with a fruit sauce of your choice. Lots of ingredients here should be at room temperature-eggs, crema Mexicana, limes (about 4), and oranges (2?). I have eliminated the masa harina after looking at appleydapply's kind review.

This is a delicious pie that I will likely make again with one small change. I used masa harina and although it might be more authentic, we thought the corn-y taste was too strong in the pie. Next time I will try with the all-purpose flour; I think that will let the other yummy flavors come through better. Thanks for sharing this recipe. I used Recipe #218458 for the creme fraiche, and Recipe #243072 for the crust.
Preheat oven to 350 degrees.
Crack the eggs into a large bowl; measure in the lime zest, sugar, and masa harina or flour, and beat by hand until thoroughly combined.
Stir in 1 cup plus 2 tablespoons of the creme fraiche, lime juice, orange juice, and orange liqueur.
Pour this mixture into the prebaked pie shell, set in the lower third of the oven, and bake until nearly set in the center ( a knife inserted halfway between the edge and the center should come out clean), about 45 minutes. Note: mine took over 55 minutes before it was baked.
I suggest putting an aluminum foil rim covering just the crust up so that crust does not get too dark. I make 4 skinny foil strips and then just lay them over the crust trying not to cover the filling any more than necessary. My crust in photos are too dark b/c I waited 15 minutes before putting them on, and with the filling being so wiggly why not just move it one less time?.
Cool slightly; serve warm, dusted with powdered sugar and with fruit sauce dribbled around.