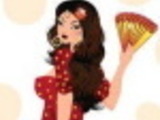 Great sauce for any fajitas
Make and share this Creamy Lime Fajita Sauce recipe from Food.com.
Directions
Place ranch dressing mix, mayo, milk, lime juice, garlic, cilantro, green salsa and hot sauce in a blender.
Blend the sauce until smooth.
Sample it and add hot sauce more or less to taste.
Make it several hours ahead of time to allow it to thicken.