Creamy Leek and Fennel Bake
Parsley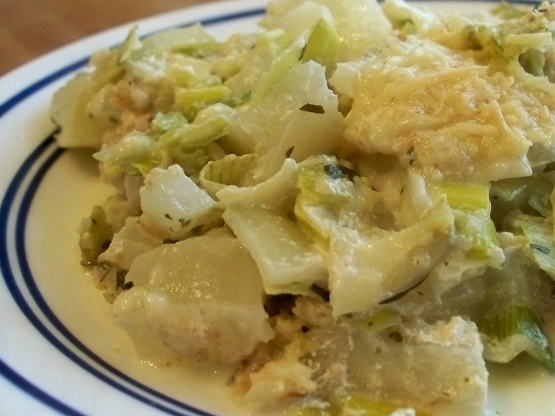 Leek and fennel in a creamy sauce covered with a crust of parmesan and breadcrumbs. The addition of fennel seeds intensifies the flavor.
1

teaspoon butter, softened

1

large fennel, coarsely shredded (about 2-3 cups)

2

leeks, sliced (1 cm thick of white part plus some of lighter green part)

Cream Sauce

3⁄4 cup milk
1⁄4 cup double cream (heavy cream)

3

garlic cloves, finely minced (or grated)

1

tablespoon butter

1

teaspoon tarragon
3⁄4 teaspoon nutmeg, grated
1⁄4 teaspoon fennel seed

Topping

1⁄4 cup breadcrumbs
1⁄4 cup parmesan cheese, grated
Butter a casserole dish and set aside.
Preheat oven to 190C/375°F.
Parboil the veggies for 5-10 minutes until tender crisp.
In the meantime, combine all the ingredients for the cream sauce in a small saucepan. Heat over medium low heat until very hot, but not boiling, about 10-15 minutes. Stir occasionally to prevent sticking.
Drain the veggies well and spread over the bottom of the casserole dish.
Pour cream sauce over veggies. Stir around lightly to incorporate the sauce throughout.
Combine topping ingredients and sprinkle over veggies.
Bake for 20-30 minutes until bubbly and top top is golden brown.
Allow to sit 5 minutes prior to serving.