Creamy Italian Sausage Pasta
klk8675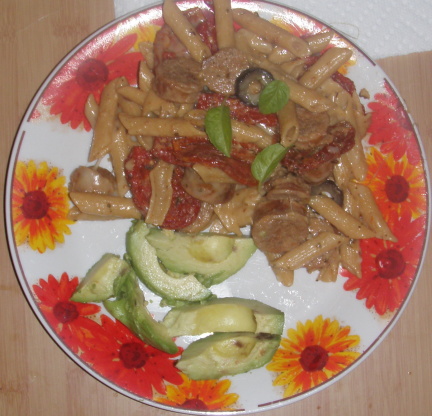 I got bored one night and started to throw together items that I had in my pantry. To my "Guinea Pigs" (family) delight, it was rather tasty.

Okay cuz... I found ya... this was really good! I didn't use hot sausage.... Brian Michael won't eat anything spicy. I will def. make this again!
Place Sausages in a pot with water and boil until thoroughly cooked through. Add minced garlic clove to pot for added flavoring.
Once cooked through, grill sausages to brown outer casing.
Meanwhile set a deep pot to boil with 5 quarts of water. Salt water, eyeball it, to season pasta, and add either Extra Virgin Olive Oil or Butter to make sure Pasta does not stick. (I prefer EVOO, again eyeball it).
In a large skillet, slowly heat Alfredo Sauce, Olives and Sun Dried Tomatoes.
Once Suasages are cooked to desired liking, slice in 1/4 in rounds and add to sauce.
Cook pasta to just under al dente. Drain and add to sauce and sausages. (Remember the pasta will continue cooking in sauce.).
Serve it up on a plate and sprinkle chopped Italian Parsley and Parmesean Cheese over the top. Serve with Garlic Bagel Chips or any other side of your choice.