Creamy Italian Pasta Salad
Boomette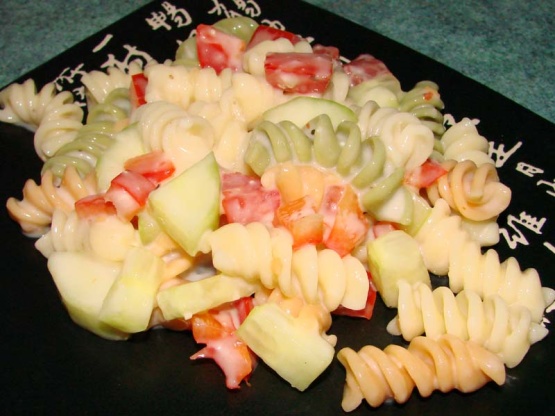 If you like simple pasta salads you should try this. I love this in the summer but you could have this any time. I didn't see any other recipes like this that used both dressings so I thought I'd share mine. They really do go well together. This is pretty versatile and you can add any veggies that you'd like.

Delicious!! We love pasta salad and I was intrigued by the combination of italian and caesar dressing so had to try! Yum! I halved the batch using rainbow radiatore and omitted the pepper (personal taste) and added button mushrooms in their place. The flavor is so good with such a nice zip to it! I reduced the fat by using fat free zesty italian and light caesar dressings and used only about 2/3 of it and thought it was plenty. Thank you for another great recipe MT! Will definitely be making this again!:)
Cook pasta as directed, rinse with cold water and drain well.
In a large bowl, combine rest of ingredients and toss to coat.
Add pasta and toss to coat.
Chill at least 2 hours before serving.
*** If pasta "absorbs" the dressing, you may need to add a little more dressing after chill time before serving.