Creamy Italian Pasta Salad
If you like simple pasta salads you should try this. I love this in the summer but you could have this any time. I didn't see any other recipes like this that used both dressings so I thought I'd share mine. They really do go well together. This is pretty versatile and you can add any veggies that you'd like.
Directions
Cook pasta as directed, rinse with cold water and drain well.
In a large bowl, combine rest of ingredients and toss to coat.
Add pasta and toss to coat.
Chill at least 2 hours before serving.
*** If pasta "absorbs" the dressing, you may need to add a little more dressing after chill time before serving.
Most Helpful
Delicious!! We love pasta salad and I was intrigued by the combination of italian and caesar dressing so had to try! Yum! I halved the batch using rainbow radiatore and omitted the pepper (personal taste) and added button mushrooms in their place. The flavor is so good with such a nice zip to it! I reduced the fat by using fat free zesty italian and light caesar dressings and used only about 2/3 of it and thought it was plenty. Thank you for another great recipe MT! Will definitely be making this again!:)

My family enjoyed the tanginess & creaminess of this pasta salad. Thanks for posting!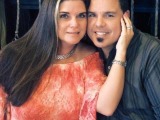 This was a great salad. I have made the Italian one before but this was creamy and loved the cheese in it. I would take more dressing if not serving right away does get a little dry after a day or two.