Creamy Italian Chicken Puff Pie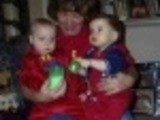 This is a very tasty pot pie made with a rich white sauce that includes chicken broth and Italian spices. There are none of the peas that are often in pot pies, but lots of chicken and potatoes.
1 whole chicken, cooked in boiling salted water and deboned
8 tablespoons butter
1⁄2 cup flour
2 (14 ounce) cans chicken broth
1 cup half-and-half cream
1⁄2 teaspoon italian seasoning
1 garlic clove, diced
1⁄2 cup white onion, diced
2 celery ribs, diced
1⁄2 cup carrot, diced
2 cups white potatoes, diced
salt, to taste
pepper, to taste
puff pastry sheet, to top casserole dish
1 egg, lightly beaten
1 teaspoon water
Directions
In a large saucepan over medium heat, melt the butter.
Add the flour and cook, stirring constantly for 1-2 minutes.
Pour in the chicken broth slowly, stirring until smooth and simmering.
Pour in the half and half slowly, stirring until smooth and simmering.
Add the Italian seasoning, garlic, onions, celery, and carrots, and simmer for about 5 minutes.
Add the potatoes, chicken, salt and pepper and simmer another 5-10 minutes until the potatoes are tender.
Pour into a greased medium size casserole dish.
Cover the dish with the puff pastry, lightly sealing the edges, and brush the top with a mixture of the egg and teaspoon of water.
Bake in preheated oven at 400 degrees about 20 minutes, until the pastry is golden and puffy.
Let sit for 5-10 minutes before serving.
Most Helpful
4 Stars "Loved It". Just made a couple changes...I used the broth from cooking the chicken in the recipe. I skipped the egg wash and used more garlic than called for. This was sooo good. Next day too ;) Very easy to make, and serious comfort food!
Reviewed for RSC # 9. I can't get commerical pastry in large sheets as ours come in boxes of little squares, so I had to do the jig-saw puzzle style piece-together with what I had. This was quite tasty and certainly didn't take long to put together. While I enjoyed it very much, it was missing that "certain-something� that would have made it a five star rating. Please see my rating system: a wonderful 4 stars for a tasty but not extra-ordinary Chicken Pie. Thanks!

This was very good, except it doesn't taste Italian. I would suggest adding 2 cloves of garlic and 1 tbls italian seasoning. Don't understand why we are using can chicken broth when we have fresh broth from cooking the chicken?