Creamy Italian Chicken--Crock Pot Recipe
flower7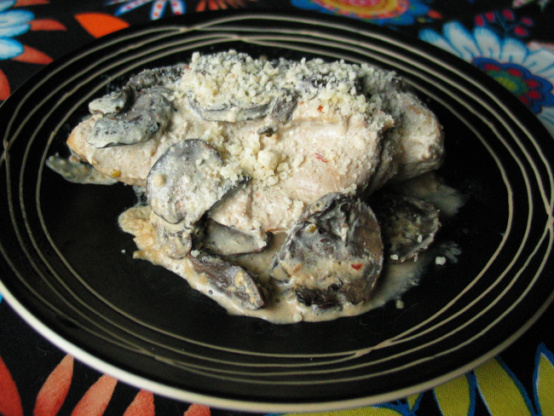 Easy to make, Wonderful to eat!

This is excellent! The sauce is especially outstanding. I made slight changes, one due to what was available at the local store. I couldn't find a 1 oz pkg dressing mix so used two 0.6 oz pkgs (Zesty variety). Instead of water I used a dry Riesling and added a couple extra Tbsp since I had a little more dressing mix. I used low fat cream cheese and threw in about 90g sun dried tomatoes with the mushrooms. Just realized I forgot the parmesan but I didn't especially miss it. Thanks for the recipe! This will be made again for sure.
Place chicken breasts and mushrooms in crock pot.
Mix together the Italian Salad Dressing mix and water.
Pour over chicken and cover crock pot.
Cook on low for 3 hours.
Meanwhile set out cream cheese-I like to cube it while it's cold.
When 3 hours is up, remove chicken and mushrooms with a slotted spoon.
Whisk the cream cheese with the liquid in crock pot.
When well incorporated, return chicken and mushrooms to crock pot and cover.
Cook for 1 1/2 hours on low.
Plate and shred fresh Parmesan to taste.
Serve.