Creamy Herb Mashed Potatoes
ImPat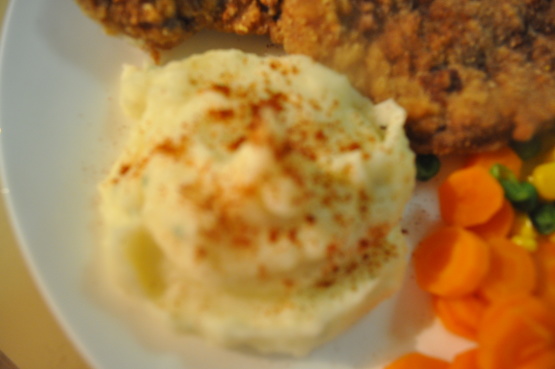 Nice and rich...great for company or a holiday sidedish

Top Review by ImPat
A good basic mash with a little something extra, scaled back a little and my measurements may have not have been spot on (and :oops: as I am reviewing just realized I forgot the garlic - so sorry), don't think I used the best of potatoes (they were home grown and given to us and don't know type) but they were a bit gluie which makes me think it was the type of potatoe which didn't lend itself best to mashing. Thank you Chef Buggsy Mate - a recipe a will give another go with potatoes I know and REMEMBER THE GARLIC (though will use roasted - not keen on raw in dishes), made for Potluck Tag.
Place potatoes and garlic in a large pot and civer with water.
Bring to a boil.
Reduce heat; cover and simmer for 20-25 minutes until potatoes are very tender.
Drain well.
Return potatoes to pot and add the cream cheese, half n' half, butter, salt, pepper and dill.
Mash and whip until smooth and creamy.
Stirr in snipped chives.
Transfer to a serving bowl and sprinkle with paprika.