Parsley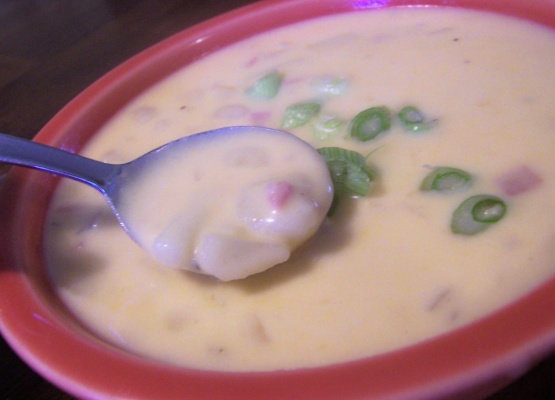 Growing up in the Midwest, this soup was a staple in our menu during the long winter months. When our sons were at home they loved the soup but it never seemed to hold them for very long. I added a few more ingredients and now they make this recipe for their families and friends and share the recipe often. I hope you enjoy it!
Peel and chunk potatoes.
Boil in salted water until almost done (fork can pierce but not break potato chunk).
Chop onion, cube ham and add to potato water during last 5 minutes of boiling time.
While potatoes are cooking, in small saucepan melt butter.
Stir in flour, stirring constantly.
Slowly add the half and half.
Stir to remove lumps till smooth and starting to thicken.
Slowly add 2 cups milk; stirring constantly to prevent lumps and scorching.
Add 1/2 of the Velveeta Cheese.
Stir to melt cheese.
Add remaining milk.
Season to taste.
Drain water from potato& onions reserving approximately 1/2 of the water.
Place drained ham, potatoes& onions in large stock pot.
Add milk mixture, remaining cheese and stir over low heat till cheese is melted.
Garnish w/choice of chopped green onions, bacon crumbles and grated cheddar cheese.