Creamy Green Pea Soup With Smoked Salmon
IngridNL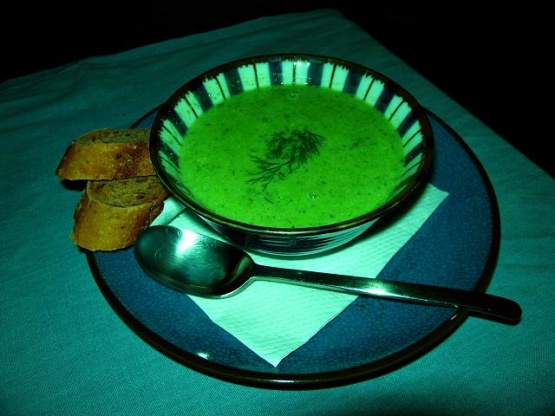 This soup was fantastic. Very decadent tasting and definitely a meal for two people. Wonderful soup with crusty bread for a rainy afternoon. We found this recipe in a Dutch magazine called Aller Hande (AllerHande 12 2004).

Absolutely delicious! My husband turned his nose up at it and said it sounded bizarre but after he finally tasted it all I heard were compliments. My alterations...no dill since I didn't have any and parsnip instead of potatoes since I didn't have any of them either. We'll have this one again. Thanks so much.
In a soup pan, heat the oil.
Add the green onions and half of the dill, saute for 1 minute.
Reserve 3 tablespoons of peas.
Add the remainder of the peas and the chicken stock.
Bring to a boil for about 3-4 minutes.
Puree the soup using a handblender.
Add the potatoes and cook for about 12 minutes until soft.
Add the rest of the peas and the cream cheese, and simmer until the cheese has melted.
Add the smoked salmon and the dill and bring the soup to a simmer.
Add salt and pepper to taste.