jenne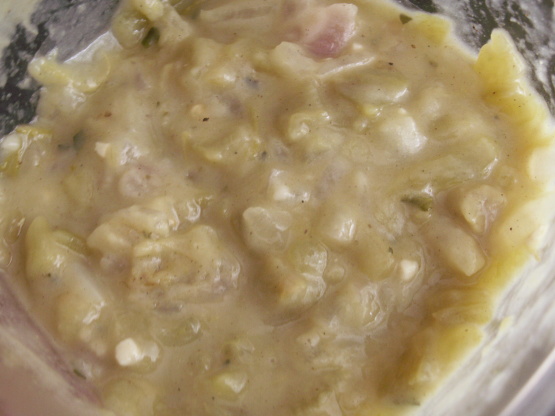 This is a mild green chili recipe that will tantalize your taste buds! Serve it over your favorite Mexican or Tex-Mex food.

This recipe is soooo good that I will never buy another can of green enchalada sauce ever again! My family loves this sauce on chicken enchaladas. Its quick to prepare and so easy to adjust the seasonings as you go for personal preferences. I cant get chopped green chilies where I live so I use a few finely chopped slices from a jar of Old El Paso Hot and Tangy Jalapenos,about five slices gives it the right heat level (higher!) for me, I freeze any leftover sauce in an ice cube tray and pop them out as needed for breakfast Huevos Rancheros Thanks Maine-iac
In saucepan, melt butter over medium heat.
Saute onion and garlic until transparent.
Stir in flour until well-mixed and golden brown.
Slowly stir in broth and remove lumps.
Add chiles, cumin, and oregano and stir well.
Reduce heat to simmer; cook, uncovered, about 15 minutes.
Serve over burritos or your favorite Tex-Mex food.