Creamy Garlicy Seafood Marinara
An_Net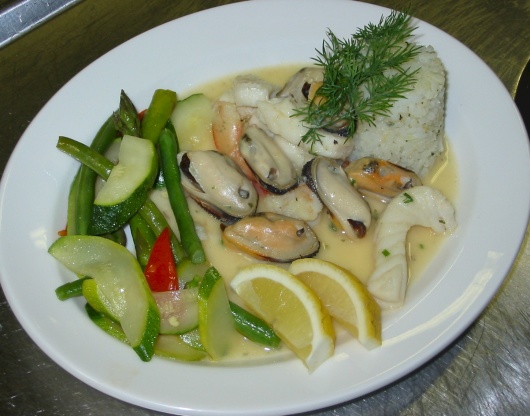 Something that the DH and I put together. I have not included the time to cook the pasta (this can be done while you are cooking the seafood). Have had the FIL and MIl cooking this for some cousins (niece on the MIL'd side) but he nieces DH is severe celiac (using gluten free cream and sour cream and so his serve his portion is with rice (but have to up the sauce as the rice sucks it up, where it is coated over the pasta). Also please feel free to change the seafood mix to what you like or for that matter the vegetables, this recipe is not set in stone. Also times are based on prawns being deviened and peeled. fish filleted and just have to cube (sorry but we quite often make this from total scratch, filleting fish, peeling deviening prawns and cleaning squid - add another 1 hour if you are doing this too
Top Review by An_Net
I made this to use the little bits of seafood I had in the freezer. I chose not to add the vegetables in the marinara but to add my own selection on the side with rice and I didn't use the pasta. I doubled the sauce ingredients and loved the sauce which is why I chose this recipe originally. I seem to be making many of Chef Potts recipes lately and this is another wonderful one.
Cook pasta as per packet directions (time to have ready for step 10, it needs to be warm, if it goes cold it will stick together and the sauce won't coat it well).
Lightly steam vegetables (I normally do in the microwave for a 30 to 60 seconds).
Add 2 tablespoons of oil and heat over a medium to high heat in a large frypan or wok, cook fish till just done, remove to a plate.
Add more oil, if required and cook the prawns till just cooked through, remove to a plate.
Add more oil, if required and cook the scallops till just done, remove to plate.
Wipe out the frypan and add more oil and heat up over medium to high heat and quickly cook the squid rings to just done and remove to plate.
Wipe frypan clean and heat 1 teaspoon of oil over low heat and add the garlic, ginger and chillies and cook till fragrant.
Add the cream and sour cream and lightly simmer for 2 to 3 minutes.
Add the cooked seafood and lightly steamed vegetables and stir to coat, lightly simmering for 2 to 5 minutes till heated through.
Add cooked pasta and spring onions, stirring to coat the pasta with the sauce.
Serve and enjoy.