Creamy Garlic Shrimp Lasagna
Rita1652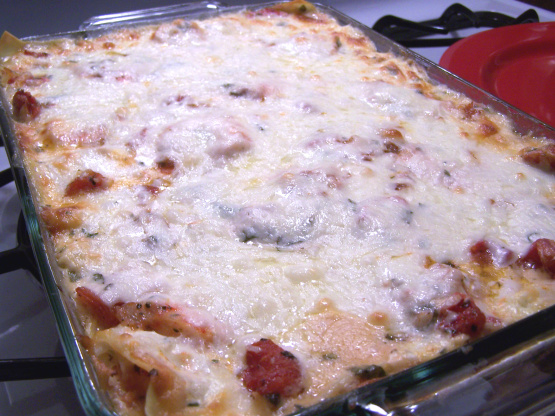 Garlic shrimp with a creamy sauce. This is decadently rich and flavorful. I used no boil wide sheets, You can use your favorite making 3 layers.

OMG this looks and sounds orgasmic! I have to make it! Wow what a recipe! Hubby is going to love this! HotPepperRosemaryJelly
Preheat oven to 350 degrees.
Heat oil in a large pan, add onions and cook for 5 minutes, add garlic and chipotles cook for 2 minutes.
Add wine to onions and deglaze pan, reduce to till almost no liquid remains. Add oregano and tomatoes cook for 5 minutes then add shrimp and just toss to coat ingredients. Remove from heat and set aside.
Meanwhile melt butter in a microwave oven add flour and mix till smooth. Add the cream and microwave for 4 -5 minutes, whisking every minute till thick.
Add nutmeg to cream sauce. Mix in Parmesan and set aside.
Mix together ricotta, mozzarella, egg and parsley, and black pepper set aside.
Lightly oil a 9x13 pan.
Place 2 sheet noodles on dish top with 1/3 cheese mixture then 1/3 shrimp mixture and then 1/3 cream mixture. Repeat 2 more times ending with cream.
Top with shredded cheese and bake for 30 minutes.