twissis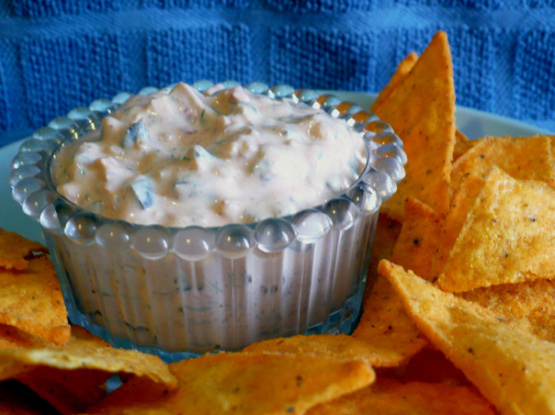 From 100 Best Appetizers Cookbook which was given to me by my swap partner MaField in the Cookbook Swap 2008. This is a nice kick to the standard salsa dips. 2 hours chill time needed before serving. **Updated 10/2009** Due to Lipton not making their soup mix available in the stores any longer, I'm suggesting following rickaholic's hint of using Knorr's Herb & Garlic Soup Mix.

Like others, I couldn't find the soup mix. After z-mailing Hokies, I remembered a sauce mix I used in another recipe that had the same ingredients. I replaced the Lipton with a package of Knorr Garlic & Herb Sauce Mix and it worked great! (It's found on the same aisle as gravy, taco seasoning, etc.) That being said, this is a very tasty dip! I served it with tortilla chips and we just finished off the first batch while watching the Huskies play ND. Good thing I have the ingredients to make some more. ;) **Made for Think Pink 2009**
28.34

g envelopesavory herb with garlic soup mix (by Knorr's or Lipton's)

453.59

g container sour cream (low fat worked fine)

118.29

ml chunky salsa (as hot as you like it!)
In a medium bowl, combine all ingredients.
Chill fo a minimum of 2 hours before serving with your favorite dippers.