Brenda.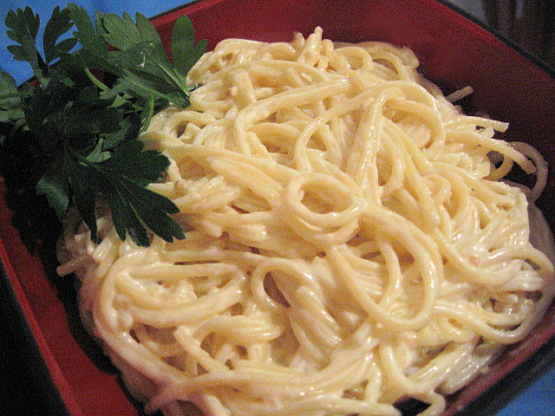 This is a great fast comfort food dish that my dad got a long time ago out of some gourmet magazine and has given to me. It's simple and cheap, and definitely for garlic lovers! Be prepared to sweat garlic in the gym the next day.
Press all of the garlic with a garlic press.
Start to heat the water for cooking the spaghetti now. Don't forget the salt!
Heat the garlic and olive oil on very low in a frying pan for about 10-15 minutes. You know it's ready when other people can smell it from everywhere within your dwelling. DO NOT LET THE GARLIC BROWN. If it starts to sizzle, add some olive oil to cool it down.
Meanwhile add the spaghetti to the water if it's boiling. Cook to al dente.
Add the heavy cream to the garlic mixture and turn up the heat to medium. Stir occasionally until the sauce is consistent throughout.
Add half a handful of the parsley to the sauce and cook for another two minutes.
Combine the cooked pasta, sauce and parmesan cheese. Stir well and serve!
Use salt, pepper, parmesan and more parsley for garnish.