Creamy Garlic Mashed Potato Casserole
Meekocu2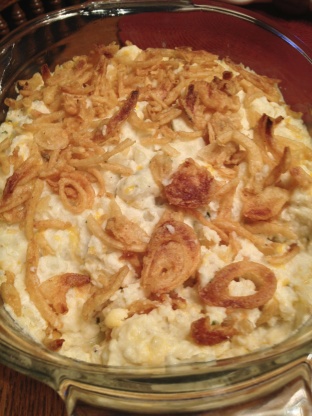 This is a very smooth and creamy side dish. It's simple to make and uses ingredients that most people have on hand. You can make it early in the day and then just pop it in the oven for dinner that evening. The prep time includes boiling the potatoes.

YUM!!! This is a cheesy, creamy, garlicy sensation! lol.. I made 1/2 of the recipe.. because I realized that I didnt have enough potatoes on hand. I only had 6 potatoes total..and wanted to make another potato dish I found on zaar.. so I made 1/2 the recipe. Instead of blending with a mixer, I did this by hand with a potato masher..(I DID LOTS OF MASHING!!) I like my potatoes a little rustic haha :-) It was splendid though!! This really topped the meal off... thanks junebug!!!
Put everything, except the cheddar cheese in a large pot or bowl.
Using a mixer blend until smooth.
Spoon into a casserole dish that's been sprayed lightly with cooking oil.
Cover and bake at 325 degrees for 40 minutes.
Uncover and sprinkle with cheddar cheese.
Bake 5-10 minutes just until cheese melts.