Creamy Fresh Asparagus Casserole
Parsley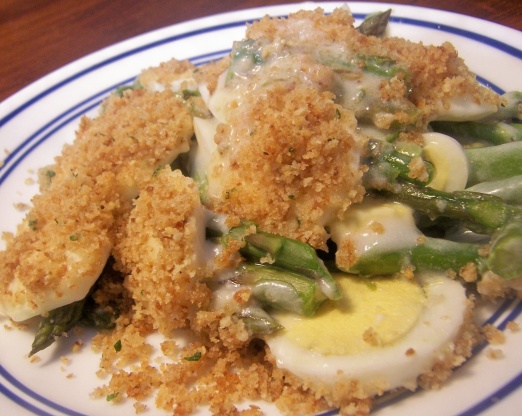 Springtime brings excellent local fresh asparagus. Try this with your Easter ham dinner for some ahhh and ohhs! Enjoy!!

This had been a family holiday classic for years. However, my husband doesn't eat boiled eggs. Way back when we substitued crumbled bacon for the eggs. All I can say to either recipe is... YUM!
Snap off tough ends of asparagus and remove scales with knife or vegetable peeler.
Cut into 1 1/2-inch pieces.
Cook, covered, in small amount of boiling water until crisp-tender; drain and set aside.
Melt 2 Tbs. butter in sauce pan over low heat; blend in flour and cook 1 minute, stirring constantly.
DO NOT BROWN.
Gradually add milk, stirring constantly until smooth and thickened.
Stir in salt and pepper, to taste.
Arrange half of asparagus in lightly sprayed baking dish.
Top with egg slices and half of white sauce.
Repeat.
Combine cracker crumbs with butter and sprinkle over casserole.
Bake at 350°F for 25 minutes until bubbly and cracker crumbs are golden brown.