Creamy Elegant Rice Casserole
IngridH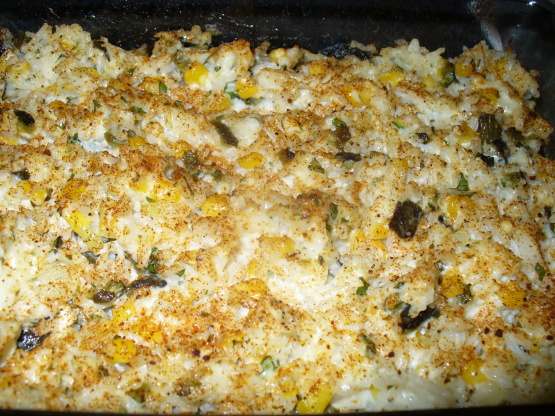 I have been having this great rice side dish since I was a little kid. it's so rich and creamy you could even have it on it's own with tortillas and beans.

Wow. This was really good. The only changes I made were 1)used white sharp cheddar cheese and 2)added some paprika on the top for color. I cut the recipe in half, and easily got 4 servings. I'm not really impressed with the way the recipe is written- Scotty, you really need to edit this so it reads better; but if you can find your way through the directions, this dish is well worth it. A definite make again.
1.- Bring water to a boil and add buttter and salt. When the butter is melted,.
add the rice and bring back to a boil. Lower the heat to very low, cover the.
rice with a tight-fitting lid and cook for 25 to 30 minutes, Take rice out of.
the saucepan and spread on a baking sheet to cool or allow to cool in the pan.
uncovered.
2.- Meanwhile, combine the sour cream with the chopped onion and cilantro.
and add salt to taste.
3.- Heat the lard in a frying pan and add the chopped onion and garlic clove.
Dice the poblanos and add to pan when the onion is wilted. Saute for one.
minute. Let cool and combine with the rice.
4.- Drain the can of corn well and add to the cool rice and poblano mixture.
Add the sour cream mixture and mix in the grated cheese.
5.- Bake for 30 minutes or until heated through in a 350 degree oven. If.
using a pyrex dish, the oven temperature should be 325 degrees.