Creamy Dreamy Shrimp Saute
Prep 10 mins
Cook 10 mins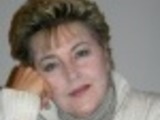 I've made this a few times now and it's always quick and surprisingly satisfying for a reduced-fat entree. I keep frozen cooked shrimp on hand as a staple for a last-minute but gourmet dinner. They defrost in a matter of minutes, so I don't take them out of my freezer until I'm ready to start cooking. I put the shrimp in a colander, run tepid water over them for a minute or so, and after they sit about five minutes, I can pull the tail shell off, and they're ready to heat up! Serve over pasta or rice.
1 lb shrimp, Cooked
1⁄2 tablespoon oil
1 sweet onion, Chopped Coarsely
3 stalks celery, Cut Diagonally, 1/2 Inch Wide
2 (10 3/4 ounce) cans low-fat cream of celery soup
1 cup water
1 lb frozen vegetables, Thawed
2 garlic cloves, Grated
Directions
In a large deep skillet, sauté onion and celery in the oil for approximately five minutes, so that celery is still crisp.
Add soup, water, and garlic, stirring to mix everything.
Bring to a boil.
Add thawed vegetables and return to low boil for 2 to 3 minutes. Taste and adjust seasonings.
Add shrimp, stir, and cook just until heated through, 1 - 2 minutes. Serve over pasta or rice, and top with fresh grated parmesan. Yummm!
Reviews
Most Helpful
This was pretty good. 5 stars for ease and time. I used a bag of asparagus/veggie mix. I subbed w/ cream of mushroom soup. I also added a little sour cream. I added more garlic. I topped w/ fresh basil and tarragon. Thanks for sharing!

This is a delicious and healthy meal. I dropped a splash (ok, maybe 2) of sherry in there and used snow peas and little corns as that's what I had on hand. We ate this over rice. Yum! Thank you so much for sharing this wonderfully easy and tasty recipe! XO LA :-)

This was so easy & would be a great addition to one's busy night cookbooks. It is made with pantry staples and is very forgiving of changes. I used a pkg of Asian veggies and cooked the garlic along with the onions & celery. It has alot of sauce so was great ladled over pasta. Made for Spring '08 Pick A Chef.