Creamy Dreamy Easy Mexican Chicken Casserole
Sirpezy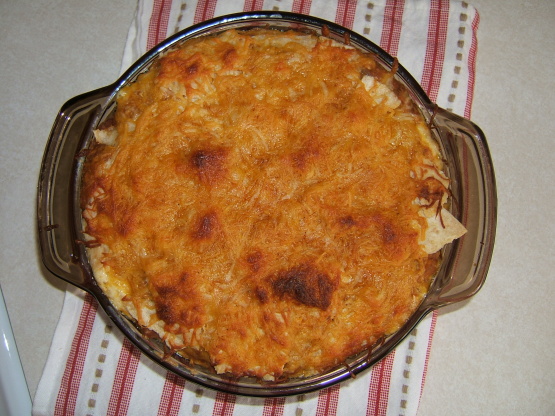 I was looking for an easy and fast Mexican casserole and I got a few ideas from a couple recipes here on Zaar and then added my own touches and ingredients. This is an extra creamy casserole, just delicious! And this is a very versatile recipe. Use whatever type of meat you'd like, delete the onions for an even faster prep time, add jalapeños, etc. Delete the tortillas and it is an awesome enchilada filling or even an appetizer dip.

It was good, but not my favorite recipe. Something didn't taste quite right. My boyfriend only took a couple bites before having nothing else to do with it. We LOVE mexican food, but I think I'll stick to the recipes that we're familiar with.
Pull apart chicken into bits and/or tiny strips into a large bowl.
Over medium heat sauté onions to desired texture.
Mix together chicken, taco seasoning, refried beans and Rotel tomatoes (with juices) and onions.
Mix together Southwest style condensed soup & sour cream in medium bowl.
In a medium casserole dish spread half the sour cream mixture on the bottom.
Then tear 1 tortilla into pieces on top of sour cream mixture.
Add 1/2 chicken mixture on top of that & then a layer of cheese.
Repeat layers and sprinkle cheese on top.(For an extra crunchy top, add an extra layer of torn tortilla between 2 cheese layers).
Bake at 350°F for 20 minutes or until heated through.
Both the chicken mixture & sour cream mixture can be mixed ahead of time & stored in the fridge.