Creamy Dijon Pork Chops With Apples and Onions
momaphet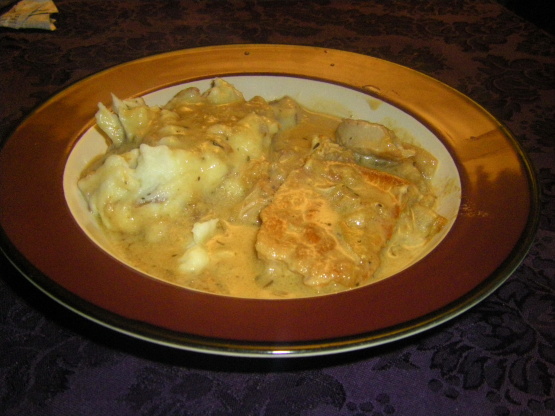 This is a slightly German inspired dish, and very yummy!
This was quite yummy, very warm and hearty! I used thyme in place of the basil, and a sweet onion for the red, I also skipped the capers as I thought they would take the flavors in a direction I would not want to go. We like lots of sauce so I added low sodium beef broth in addition to the wine. I served this with mashed red potatoes the perfect comfort food for a cold, rainy night. Thanks Midwest Maven for your wonderful dish. Posted for ZWT 4 Germany and Benelux
Pound the pork chops to 1/4 inch thickness.
Mix the flour, 1/2 teaspoons salt, 1/4 teaspoons pepper, and the garlic powder and dredge the chops in this mixture.
Melt 1 tablespoons of the butter and 1 tablespoons of the olive oil in a pan and cook the chops until nicely browned on both sides and done.
Take the chops out of the pan and keep them warm.
Melt the remaining butter and olive oil in the same pan now and sauté the onions for a couple minutes.
Then add the apples and sauté until the onions start to get soft.
Add the white wine and cook 5-7 minutes longer, stirring occasionally.
Slowly add the heavy cream while stirring, and combine well.
Add the Dijon mustard, capers, lemon zest, salt and pepper to taste, and dried basil and combine well.
Add the chops back to the pan over medium-low heat and cook covered, until heated through and it starts bubbling. Enjoy!