Creamy Dijon Cheesy Cauliflower
Parsley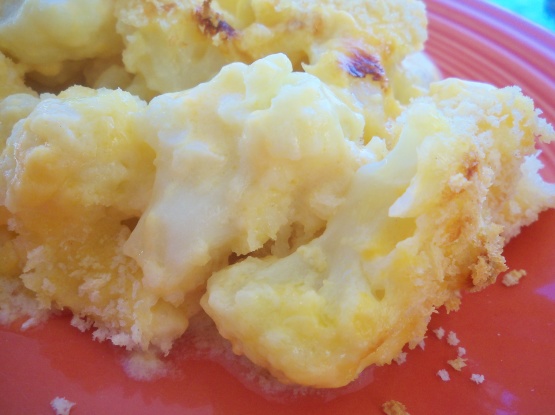 This recipe is absolutely delicious. The dijon mustard gives it just the right amount of zing without being over-powering. I love how quickly this recipe goes together and cooks. Start to finish it's about 30 minutes.

Top Review by Merlot
What a great way to prepare cauliflower. And yes, you are correct, it's very creamy and cheesy. The Dijon mustard is a nice compliment to this dish. I garnished the dish with fresh parsley springs for a pretty presentation. This is a keeper and thank you so much, MaxsMom!!!
Grease a shallow baking dish.
Cook the cauliflower in a saucepan of lightly salted water just until tender.
Drain, then place in the greased dish, keep warm.
Melt the butter in a saucepan, add flour and cook for 1 minute stirring constantly.
Remove from heat, then whisk in milk, and mustard.
Return to heat and bring to a boil, stirring constantly.
Cook, stirring, over low heat for 2 minutes.
Remove from heat.
Add parmesan and 1/2 cup of the cheddar cheese and stir until melted.
Season to taste with salt and pepper.
Pour cheese sauce over the cauliflower.
Combine the bread crumbs and remaining cheddar and sprinkle over the cauliflower.
Cook under a broiler until the top is browned and bubbling.