Creamy Delicious Seafood Chowder
teresas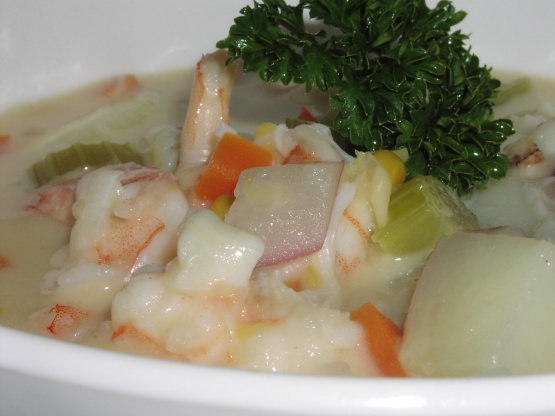 This is so beautiful! Peeling the potatoes is optional...your preference. Add some french bread and a salad and you have a meal! It can also be prepared and frozen for future use! Freeze in airtight container, then thaw in refrigerator for 24 hours. Place in a saucepan and cook over low heat until heated thoroughly....stir often! Adapted from Southern Living.

I doubled the recipe, and used shrimp, crawfish, scallops, and crab meat. I made the following changes the second time I made chowder: I only used half the amount of corn, added 1 tablespoon salt, added 1 1/2 tablespoons Old Bay seasoning, added black pepper and scallops. This is now a family favorite. It was our Christmas dinner this year. Thank you for a great recipe, ending my search for the "perfect chowder."
Peel and devien shrimp. Set aside.
Coat a dutch oven with cooking spray; add oil, and place over medium high heat until hot. Add onion, celery, red pepper, and garlic. Cook until tender.
Add flour and cook, stirring contatnly, one minute. Gradually add in chicken broth, water and next 5 ingredients.
Bring to a boil; reduce heat, and simmer uncovered, stirring often for 20 minutes or until the potatoes are tender.
Stir in milk, corn and hot sauce. Return to a boil. Add shrimp and crabmeat; cook 5 minutes or until shrimp turn pink, stirring constantly.
Remove and discard bay leaves.