Creamy Curry Zucchini Soup
Glori-B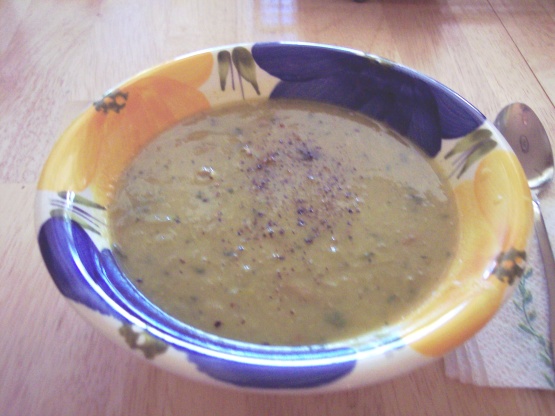 Last week I got my monthly Swedish cookery magazine. When I saw this soup among the recipes I had to try it. Although it says creamy, there is no actual cream involved, it's completely non-dairy.

Everyone who's facing the New Year's diet resolution and likes a little oomph in their food should try this soup. Topped with a nice grind of black pepper and cayenne, it's got bite and is surprisingly filling. Thanks.
Fry onions, leak and curry in the oil, about 3 minutes.
In another pan, cook potatoes and zucchini in 2 cups of the vegetable broth for 15-20 minutes.
Add onionmix and cook another 5 minutes.
Puree the soup either by hand or in a blender.
Add the rest of the vegetable broth (2 cups) and heat the soup to boiling point.
Add salt to taste.