Parsley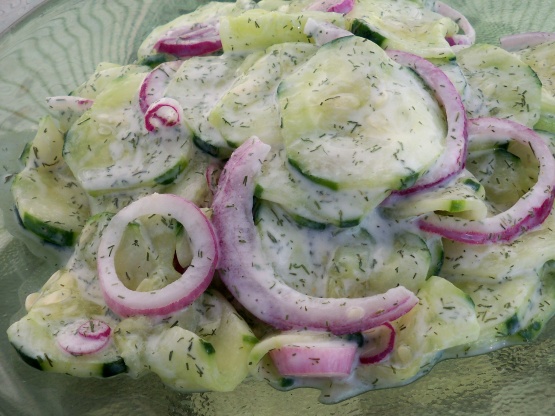 You can make this sour cream if you don't have any health issues, but I like it made with plain low fat or fat-free yogurt. A very refreshing side dish for something like a stew. Standing time is cooking time.

Wow--this is sooooo good!! It's cool and creamy and crunchy and dilly and tangy and delicious! I scaled the servings down to 1 (my DH isn't a fan of cucumbers), and used a green salad onion, low fat sour cream, and white vinegar--all of which worked fine. Several years ago I had a wonderful cucumber salad at a local restaurant, and have been searching for the recipe ever since--but this cucumber salad is even better! A copy of this recipe is now in my best-of-the-best cookbook, and I look forward to enjoying it again! Thanks so much for sharing it, Irmgard!!
In a colander, sprinkle the cucumbers with the salt and let stand to drain for 30 minutes.
Pat dry.
Meanwhile, soak the onion in cold water for 15 minutes.
Drain and pat dry.
In a bowl, mix together the yogurt, dillweed, vinegar and sugar.
Add the cucumbers and onion and toss to coat.