Kim D.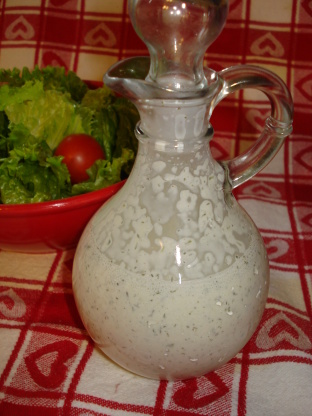 This dressing is one of our favorites. It's creamy and packed full of flavor. Its very refreshing and is the perfect salad dressing for your summer salads.

Top Review by dal668
This dressing recipe is out of this world good! It's great on crispy salad greens, or used as a dip for fresh veggies, I also love it on fish in place of tartar sauce. I used it on a macaroni salad I made over the weekend (in place of mayo) and we couldn't get enough of it! I agree with Michelle S. in that the dill was a little bit over-powering. I do recommend that you cut down on that ingredient a bit. 1 1/2 teaspoons of dill would be more than enough. I already made that correction on my printed copy of this recipe. I also used black pepper instead of white simply because it was what I had on hand. I don't think it effected the taste of the dressing at all, I guess some folks would just rather not see little black specks of pepper in a white sauce or dressing. It didn't bother us in the least though. Years ago a very well known salad dressing company used to sell a bottled dressing that tasted very much like this recipe. My family loved it! We used it on almost everthing. Then suddenly without warning or explaination, they stopped making it. I can't tell you how happy I was to find this recipe and then be so fully pleased with the way it tasted. Thanks for the recipe Kim, this one's a keeper!
Place all ingredients in a blender.
Process until well blended.
Place in an air tight container in the refrigerator until ready to use.
~NOTE~ Fresh herbs can be used if you have them available. Amounts - 2 T. fresh dill, 2 T. fresh chives, and 2 T. fresh parsley.